If you want to see some of the best locations in Juneau, we offer guided hikes to get you there! Juneau has some amazing trails, but which one should you take? Maybe you want to get off the beaten path and visit some hidden history while you're in Alaska. Whatever your goals, we can help get you there.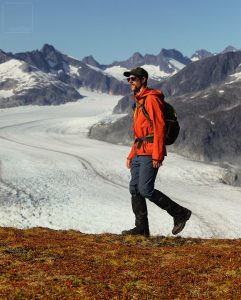 Maybe you're not so interested in a photo tour, but want to get outdoors and see the best locations in Juneau. As an avid outdoor adventurer, Peter spends a lot of time exploring. As a photographer, he's always on the hunt for the best views. This means a lot of hiking to get there.
We know the best trails from beginner to advanced. We offer guided hikes that range from a lovely stroll in the woods to scaling the side of a mountain. Want to walk on a glacier or maybe see an ice cave? There are endless options in the Juneau area and we love showing off the beauty that surrounds us.
Why Guided Hikes?
With all sorts of trail apps why would you want to take a guided hike? We absolutely want you to go outdoors and see the area. If you're comfortable rocking it on your own, go for it! Many trails are super easy to follow and no guide is needed. Others…can be a bit more challenging. Below are a couple reasons why a guided hike might be for you:
We know the trails. There's a certain advantage to having someone lead you who's been there before. Some trails are easy to follow, others can be quite frustrating since they're not so frequently used.

Go Off Trail

. Want to hike where no man has gone before? We can take you there. We love exploring the lesser known side of the wild.

Don't Miss the History

. Juneau was built on gold mining. On a number of hikes, there are short off-shoots that have some cool stuff to see. You can walk right past it without ever knowing it was there. From abandoned equipment to mining tunnels, we've got it all.

FREE bear spray!

Hiking in Juneau means you're in bear territory. We have bear spray for you to carry during the guided hikes so you don't need to spend a bunch of money on something you can't take with you when you leave. Plus we have some fun stories about how to not use the stuff.

Safety in Numbers

. If you're traveling solo, or you're going to be hiking alone, it's good to have a buddy. Stuff happens on adventures and it's always safer to have someone with you to make sure you get back safely.

Always in reach

. Most of the trails in Juneau take you out of cell phone coverage. We always hike with a Garmin InReach that can contact people if there's an emergency (or a strong need).

Get a cool picture

. As photographers, we can take some awesome pictures of your adventure. Or you can go home with the best cell phone picture ever!

Pay What You Want

. Juneau Photo Tours is a part of N Creative, Inc. Which is a non-profit based in Juneau. We do have a suggested donation of $200-$500 per day (based on the length, difficulty and time required for the hike), but you can pay whatever you want for the experience.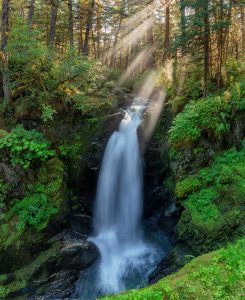 Contact us today with any questions you have! We can give you some ideas on where to go based on your timeframe and fitness level. We look forward to showing you the real Juneau!
By joining any hike or tour, you are agreeing to our liability waiver.